Limerick Based Businesswoman Becomes Thought Leader in Real Estate
Helen McCormack has kicked off 2021 with a bang, achieving a Thought Leader Accreditation in Real Estate from the All-Ireland Business Foundation.
The Accreditation is an outstanding achievement that recognises Helen McCormack's dedication and hard work in providing outstanding services. It also shows that her business, Helen McCormack Estate Agents, meets the highest standards of performance, trust and customer-centricity.
The Accreditation is an independently verified standard mark for indigenous businesses, based on rigorous selection criteria. It is overseen by the prestigious All-Ireland Business Foundation, whose adjudication panel is chaired by Dr Briga Hynes of the Kemmy Business School at the University of Limerick and Kieran Ring, CEO of the Global Institute of Logistics.
"I am grateful to the All-Ireland Business Foundation for the honour of being accredited as a 'Thought Leader in Real Estate'. It is a recognition of my ongoing commitment to the property industry over the last 20 years in Limerick. I am delighted to have helped hundreds of clients from the downturn through recovery to growth in terms of customer service, knowledge and guidance and assisting with pre-empting clients needs and in many cases, substantial turnarounds through this service. This has been supported by continuous personal and professional growth for myself and the team embracing education and implementing changes in the business to best serve our customers, says Helen McCormack.
She continues: "The Accreditation process was reflective and subsequently affirming; acknowledging that I love what I do. Many variables have changed over the years but the customer relationship based on trust, integrity and service is the key focus that remains a constant and I look forward to continuing my service in this exciting industry; that is the world of property."
Dr Hynes said the Accreditation, which is now held by over 450 firms, is needed by the thousands of small and medium businesses which operate to their own standards, but have nothing to measure them by.
"We evaluate a company's background, trustworthiness and performance, and we speak to customers, employees and vendors. We also anonymously approach the company as a customer and report back on the experience. The business goes through at least two interviews and is scored on every part of the process against set metrics", she says.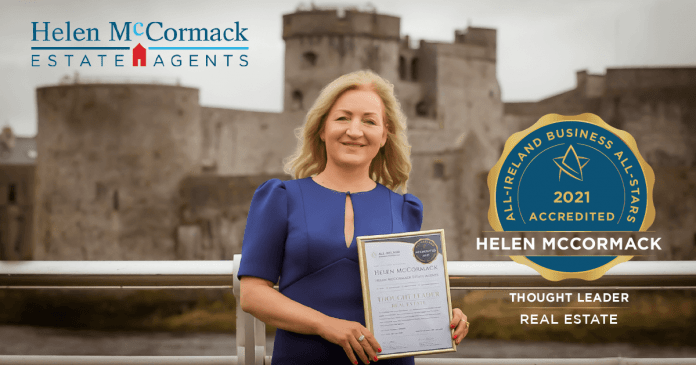 As an Independent Brokerage, established in 2009 with a key focus on building long-term relationships with clients, the business has grown to encompass a strong client base with a foundation of relationships based on trust and integrity resulting in organic referral business in Property Sales, Lettings and Property Management Services.
Helen McCormack MIPAV TRV advised that expert local knowledge and industry experience gives clients confidence when choosing their Auctioneer. Helen and the team commit to continuous education with the Institute of Professional Auctioneers and Valuers (IPAV) and acknowledges that her peers in the Industry are a great support; and that relationships between Agents is extremely good since the establishment of the Property Services Regulatory Authority establishing the framework for clear boundaries around Client instructions.
She credits her Honours Degree in Management Practice obtained through the Kemmy Business School, University of Limerick; completed by night during the economic downturn; and Lean Management Consultancy provided by Limerick Enterprise Office as a catalyst in relation to progression of the implementation of systems to enhance efficiency and customer service; while being keenly aware that nothing beats the personal touch.
The All-Ireland Business Foundation is a national body which accredits best-in-class Irish businesses as Business All-Stars. The Foundation also oversees the All-Ireland Business Summit while promoting peer dialogue amongst our members on an ongoing basis.
To learn more about Helen McCormack Estate Agents, visit their All-Star showcase page here.
The process to select the next group of Business All-Star accredited companies has begun and further information is available at businessallstars.ie.